Ready or not, here comes fall!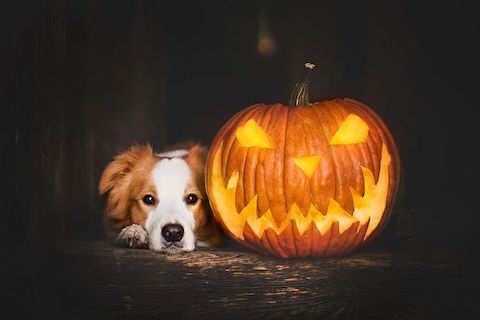 Ready or not, here comes fall!
The leaves are changing, the weather is finally cooling down, and the holiday season is fast approaching which means it is the perfect time to get your pets ready for the upcoming cold months!
Holidays and Parties
It's time to party! There will be football parties, costume parties, or just for fun parties full of friends, family, and especially food that your dog will want to enjoy alongside you. (Even if they probably shouldn't.) With all of the added celebrations and gatherings there will be a lot more opportunity for your pup to sneak yummy table scraps. Not everyone you know may understand your animal's dietary needs and might not see the harm in feeding them what you would normally not. Letting your party guests know what foods are safe for your pets to eat will keep their little tummy's happy and heathy. Dogs especially should avoid grapes, onions, garlic, and raisins as they can be extremely toxic in larger quantities, with even small amounts having the ability to cause inflammation, vomiting, or diarrhea.
Horses on the other hand might not be at your football party but they could be outside gorging themselves on acorns, an often-favorite treat, that could lead to sickness when over-indulged. This is the time of year when trail riding and competitions tend to slow down and the added calories those required are no longer needed. Adjusting your horses feed intake will keep your horse from gaining unnecessary weight that could lead to health problems later on.
Avoidance of choking hazards is important for all animals. Beware of foods such as corn on the cob, fruits with pits, foods with bones, or anything containing toothpicks or skewers as these can all lead to an emergency trip to the vet and no one wants that!
Halloween Tricks & Treats
Halloween is the perfect time to dress up your pup, or horse ;) in all the adorable costumes you could imagine, but they might not be as excited about the holiday as you are. Maybe they wanted to be a firefighter instead of the flying monkey from Wizard of Oz, just make sure the costume is the right fit and they are comfortable before making them wear something new. They also have to deal with all of the scary ghosts and ghouls jumping out and making loud noises, along with all different kinds of costumed strangers coming to their home! No wonder they might need some additional love and attention to keep them feeling safe and secure. Think of using similar precautions as you did for the firework season. There is a lot of excitement and it's always better to be prepared. They deserve some yummy treats too! Just keep them away from the candy, especially the chocolate, and anything with xylitol (an artificial sweetener often found in candy) can be toxic for your pet as well. And just avoid the house that gives out raisins altogether. No one likes raisins, especially not your pup.
A Majesty's Recommendation
All of the excitement brought on during the holiday season can make your four-legged friend more anxious and stressed than they typically are. They don't understand why everyone is being so loud and scary! Our Majesty's Kalm+ wafers (for horses) and our Kalm+Kool Buddy Bites (for dogs) are both products we make to help give them the proper balanced behavior and nervous system support they can always benefit from!
Works great for aggression, fireworks, thunderstorms, car rides, or any other situation that might cause your furry friend anxiety!
Possible Poisons
The change in weather leads to a change in the environment accessed by our furry friends and gives them more opportunity to digest new and interesting plants that do not always agree with them. Decreased grass in pastures can give horses the idea to check out the new green plants sprouting around them, which leaves them open to plant poisoning. Start by giving your horse supplemental hay at the beginning of fall to keep them from getting too curious. Dogs might find the abundant mushrooms that grow this time of year as a possible yummy new snack, but a majority of mushrooms are toxic and can lead to vomiting, severe abdominal pain, tremors, weakness, possible kidney or liver failure, or even death. And remember, any time that you think your pet may have digested something unknown, call your vet ASAP!
Fall Laminitis in horses
Recent research has found that during the fall months there is an increase of the hormone ACTH in ALL horses. This begins mid- to late August and continues into November. For normal horses, it's not much of a problem, but with insulin-resistant horses, or those with early Cushing's, the rise in ACTH can be substantially greater.
Some Symptoms include:
            -Lameness
            -Heat in the feet
            -Pain in the toe area
            -Reluctant or hesitant gait (walking on eggshells)
            -Bruises, abscess, or uneven hoof growth
Laminitis is a serious health concern in horses and requires immediate contact with your veterinarian to ensure their prolonged good health.
Pest Control
The insects that bugged (Ha!) us during the summer months do not always make it long into fall, but that does not mean that they do not still cause us problems. Parasite larvae is in its' highest numbers during the beginning of fall and with the decrease in the available healthy pasture, your horse may be unknowingly consuming any number of infectious parasites. Talk to your trusted veterinarian about which deworming schedule works best in your area and what is best for your beloved four-legged friend!
Enjoy the fall weather and keep the fun times going! :)
By Heather Carter
---