Dental Health Month For Our Pets!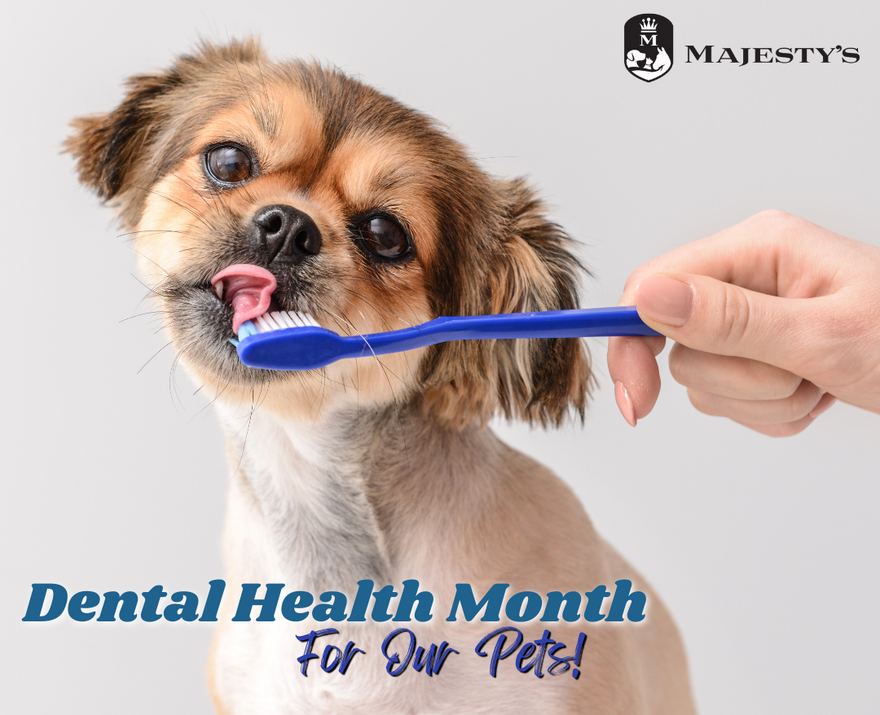 February is recognized as National Pet Dental Health Month, to raise awareness about the importance of oral health care for pets and to encourage pet owners to have their pet's teeth regularly examined by a veterinarian.
Regular dental check-ups and cleaning can prevent a range of oral health problems such as gum disease, tooth decay, and bad breath, and can help keep healthy and comfortable throughout their lives.
Here are some tips for maintaining good dental health for your dog:
-Brush your pet's teeth regularly and with a pet-specific toothbrush and toothpaste.
-Offer your pet dental chews, toys, and bones to help remove plaque and tartar.
-Feed your pet a balanced diet that includes crunchy foods and avoid giving them table scraps.
-Provide plenty of fresh, clean water for your pet to drink.
-Take your pet to the vet for regular dental check-ups and cleanings.
-Avoid giving your pet hard bones or toys that can break their teeth.
-Watch for signs of dental problems, such as bad breath, excessive drooling, or changes in eating habits.
Remember, good dental care is an important part of your pet's overall health and well-being, and can help to prevent serious health problems down the line.
Horses, like all animals, need proper dental care to maintain good oral health and prevent problems such as tooth decay, gum disease, and misaligned teeth.
Here are so tips for maintaining good dental health for your horse:
-Keep an eye out for signs of dental problems, such as difficulty eating, excessive salvations, or head tossing.
-Schedule regular dental exams with a veterinarian who specializes in equine dentistry. This should be done at least once a year, but more often for older horses or those with known dental concerns.
-Provide your horse with a balanced diet that includes roughage, such as hay and pasture grass, to help wear down their teeth naturally.
-Avoid overfeeding your horse hard or crunchy foods, such as carrots or apples, that can cause damage or breakage to their teeth.
-Offer your horse dental toys and other products designed to help keep their teeth clean and healthy.
-Take steps to reduce the risk of injury to your horse's teeth and mouth, such as using a properly fitted bit and avoiding rough handling during grooming or tacking up.
Proper dental care is an important part of keeping your horse healthy and comfortable, and remember that it is never too early, or too late, to start!
---