Autumn To-Do List For Pet Parents!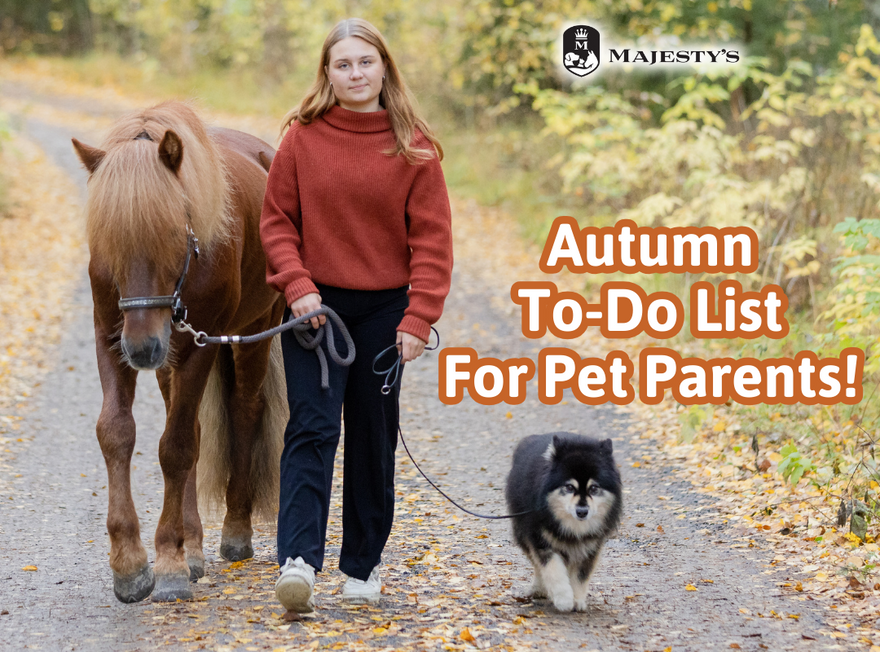 Autumn is just around the corner and with the cooler temperatures and shorter days come some brand-new factors to consider concerning our furry friends and their ongoing safety and happiness. But do not forget that the fall season is also a time for fun and exciting new chances to spend quality time with our beloved pets! Here is a handy to-do check list that will help keep your pet safe and happy this upcoming season!
Healthy Pet Checklist:
Scan Your Yard For Acorns and Pinecones!

Acorns contain tannins which can cause an upset stomach when consumed, while pinecones (and pine needles and sap) can cause intestinal irritation and vomiting if ingested. They can also both be choking hazards!

Stock Up On Calming Solutions!

Holiday stress is not just for humans. Changing schedules, visits from strangers, and group gatherings can all be stressful to your pets too! Look into what calming solution will be best for your pets and that can include anti-anxiety treats, supplements, or even diffusers.

Outfit Your Pets In Proper Outerwear!

If your pet is prone to shivering in cooler weather or is going to be spending much of their time outside, give them a sweater or blanket to help keep them warm.

Protect Their Paws And Hoofs!

Ice and salt can be tough on our pet's paws! Use dog boots or paw balm to protect their feet. Keep your horse's hoofs clean and consider hoof conditioner to keep their overall hoof health good.

Refill Your Flea, Tick, And Worm Preventative!

Pests do not take the cooler months off, so it is important to keep your pet's flea, tick, and worm prevention current all year long. Check the date of your pet's last dose and order any refills you may need to last all season long.
Fun Autumn Things To Do With Our Pets:
Choose Their Halloween Costume!

Autumn is spooky season after all! Start brainstorming costume ideas for you and your pup early and make sure that their costume is comfortable and fits correctly.

Visit A Pet-Friendly Fall Festival!

What is better than sipping warm cider, taking a hayride through a pumpkin patch, getting lost in a corn maze, or apple picking? Try doing it with your pet by your side! Check local farms or farmer's markets for some pet-friendly fall festivals or activities.

Take A Hike!

If your pet is into hikes, this is the perfect time of the year to take them somewhere extra special! Together, you will enjoy the colors of fall foliage, the crisp autumn air, and all the new sights and smells of the season!

Carve Them On A Pumpkin!

Carve a pawprint, your pet's name, or your pet themselves! Lots of people carve pumpkins this time of year, but most will not have a special jack-o-lantern of their favorite furry friend.

Gear Up For Game Day!

Football season is back, and you are going to want the whole family ready- pets included! Get them their own team bandana or special game day treat!

Donate Or Volunteer At Your Local Shelter!

For animal shelters, animal rescues, and pet food banks across the country, it's one of the busiest times of the year. Find an organization near you and donate supplies (using their Wish List) or call them and ask about their volunteer opportunities.
These favorite fall activities are sure to keep you and your pet happy and healthy all season long! From bucket list ideas to essential healthy tasks, autumn is sure to be a favorite season for both you and your pets!
---